Japan Summer 2011: Osaka-Hokkaido-Tokyo
Japan Summer 2011 Trip Planning
Basic site with general information on the trip + Planning
Quoted Sources / Credits / Bibliography
Who + Aim
List the things that you'd like to achieve/do/visit/eat for this trip
Ricky

Osaka Aquarium

Guangxu

….

Alvin

See flowers, a bit of hike and bike

Alvin Snr

To be confirmed on trip
Weather/Climate
General Climate of Japan
Climate of Specific parts of Hokkaido
http://en.allmetsat.com/climate/japan-hokkaido.php
Weather Forecast for Hokkaido (Day to day)
http://www.jnto.go.jp/weather/eng/index.php?lang=1
Travel Plans
Osaka
Hokkaido
Map of Hokkaido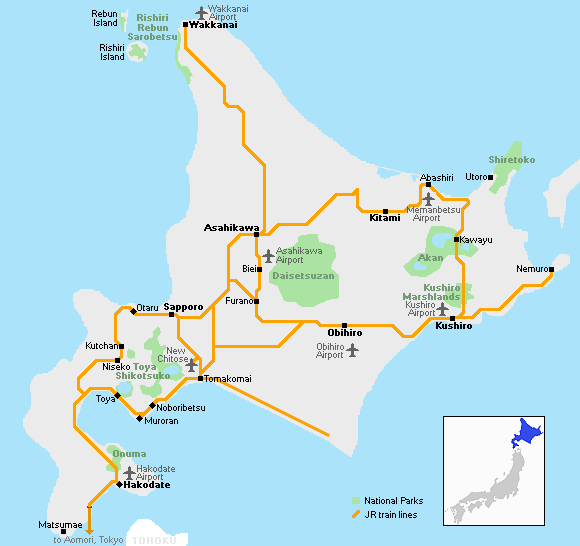 East (Shiretoko)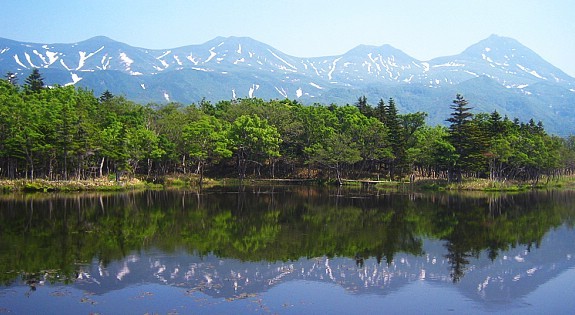 Shiretoko National Park, located on the Shiretoko Peninsula in eastern Hokkaido, is one of Japan's most beautiful and unspoiled national parks. No roads lead further than about three fourth up the peninsula, and the northern tip can only be viewed from boats or be reached on multi day trekking tours.
The peninsula is home to a variety of wildlife, including brown bears, dear and foxes. In winter, the peninsula's coast along the Sea of Okhotsk becomes one of the northern hemisphere's southernmost regions to see drift ice.
In July 2005, Shiretoko was added to the list of UNESCO World Heritage Sites for the irreplaceable value of the peninsula's ecosystem and biodiversity.
KamuiWakkayu Falls - Hot Waterfall!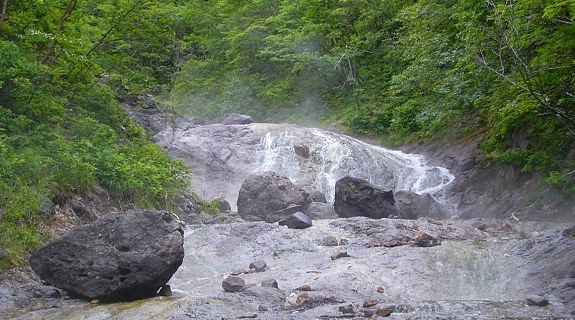 A visit to Kamuiwakkayu Falls (Kamuiwakkayu-no-taki), a naturally hot waterfall in the midst of nature, is one of Japan's ultimate hot spring experiences.
In order to reach the waterfall, visitors hike up a mountain stream for about 20-30 minutes, wading through the water and climbing minor waterfalls along the way, as the stream's water temperature increases steadily. The reward is a hot spring bath in the natural basin of the naturally hot waterfall. Unlike elsewhere in Japan, it is common for bathers to wear a bathsuit here.
The walk up the river is slippery and steep at times, and proper caution is required. Note that it is less slippery to walk in the middle of the river rather than on land along the river.
Shiretoko Five Lakes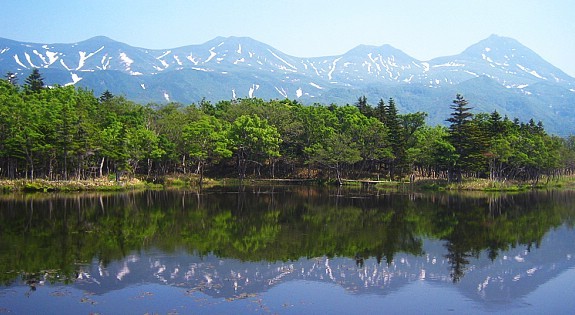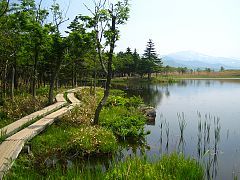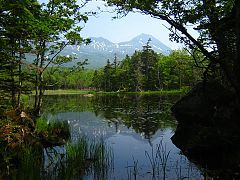 Looking like the result of a god's five fingerprints, the Shiretoko Five Lakes (Shiretoko Goko) are a great place for people seeking to experience Shiretoko's unspoiled nature in an easy walk rather than in a strenuous trekking tour.
There is a three kilometer long nature trail that leads around the picturesque five lakes and takes about 90 minutes to walk. Due to the large number of visitors, access to the nature trail is being regulated as follows (from 2011):
May 10 to July 31:
During the peak of bear activity from May to July, access to the nature trail is possible only in guided tour groups of up to ten people, which depart every 15 minutes and take about 2 hours and 45 minutes. The cost is around 3500 to 5000 yen per person depending on the tour company.
August 1 to October 20:
Once bear activity has decreased in August, the nature trail can be walked on an individual basis, however, an admission fee of 250 yen per person and a daily limit of 3000 visitors apply.
During the rest of the year:
The trails can be walked on an individual basis, and there is no admission fee.
In order to reduce crowds along the nature trail, an elevated walkway was opened in 2009. Made of wood and barrier free, the 800 meter long walkway also provides scenic views of the beautiful natural surrounding and takes about 30 to 40 minutes to walk (round trip). No admission fee applies for walking along the elevated walkway.
---
Central (Asahikawa)
Asahikawa Zoo
Asahiyama Zoo is a very popular zoological garden just outside of central Asahikawa City in the middle of Hokkaido. Its popularity lies in the enclosures which allow visitors to observe the animals from various angles, many of which are unique to Asahiyama Zoo.
Highlights include a glass tunnel through the penguin pool that allows visitors to observe the birds' underwater flights, and small glass domes in the middle of the polar bear and wolf enclosures that can get visitors right among the animals. The zoo was also one of the first to organize penguin walks in winter. Work on new enclosures and improvements to existing ones is constantly ongoing.
Animals on display include native wildlife from Hokkaido, including deer, eagles, cranes and (now extinct) wolves, as well as various animals from across the world, such as polar bears, apes, big cats and giraffes. If possible, try to visit the zoo outside of weekends and holidays to reduce the crowds.
Some unique enclosure at Asahiyama Zoo: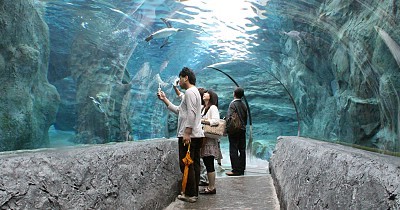 Penguins - An underwater glass tunnel lets visitors observe the birds as they fly through the water.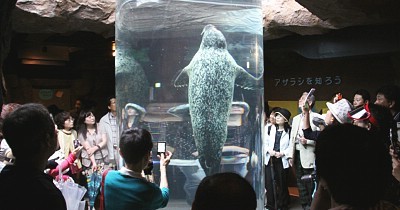 Seals - A glass pipe called "Marine Way" lets visitors inspect passing seals from all sides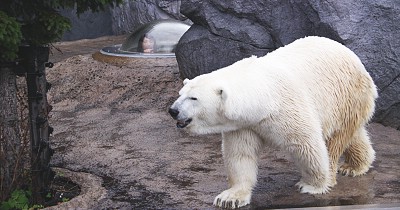 Polar Bears - A glass dome called "Seals Eye" puts visitors into the position of the bears' favorite meal.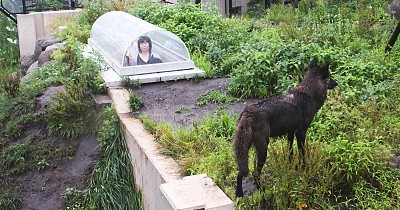 Wolves - Another glass dome puts visitors at eye level with black wolves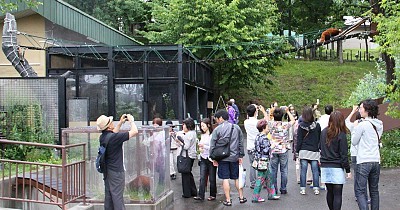 Lesser Pandas - A suspension bridge over a walking path connects the lesser pandas' enclosings.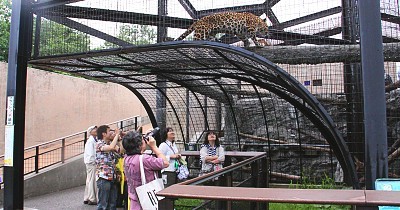 Leopards - This unique cage construction lets visitors observe the big cats from a rather unusual angle
Sounkyo Gorge
??? ANY information??
Central (Furano)
Furano Tourism Association Site
Site: Useful site for Furano area — http://www.furanotourism.com/english/home.htm
Belly Button Festival (27-28 Jul 11)

Flowers Forecast

Onsen

[[Onsen in Furano seems nice http://www.furanotourism.com/english/onsen.htm]] , do check out [[Ryounkaku Tokachidake Onsen http://www.furanotourism.com/english/hyperlinks/Accom/Accom-H-Ryounkaku.html]] too
Farm Tomita
Lavender has been cultivated in Hokkaido for more than half a century. When the arrival of lower priced, imported lavender led to a decrease in demand for Hokkaido's lavender in the 1960s and 70s, the local lavender's main function shifted from agricultural product to tourist attraction.
Nowadays, Furano's lavender fields attract large numbers of visitors to the region every summer, when the plants are in full bloom. The majority of lavender usually starts blooming in late June and reaches its peak from around mid July to early August. Less numerous, later flowering varieties of lavender remain in bloom into mid August.
Many other flowers make Furano an attractive destination outside of the lavender season, as well. The main season for flower viewing takes place between June and September, although some flowers also bloom earlier and later than that. Flowers include rape blossoms, poppies and lupins from June, lilies from July and sunflowers, salvias and cosmos from August and September.
There are numerous flower fields of various sizes all across Furano. The best spot to view the lavender is Farm Tomita, whose lavender and flower fields with the Tokachi mountain range as backdrop are spectacular. The popular farm is free to enter and besides the flower fields has cafes and shops that sell a wide range of lavender related products. The farm naturally gets rather busy during the peak season.
In 2008, Farm Tomita opened a second farm, Lavender East to the public. Located about four kilometers east of Farm Tomita, Lavender East has by far the most spacious of all lavender fields in Furano, covering 14 hectares. Besides a shop, cafe and observation deck, the farm offers paid 15 minute rides on the "Lavender Bus" through the lavender fields.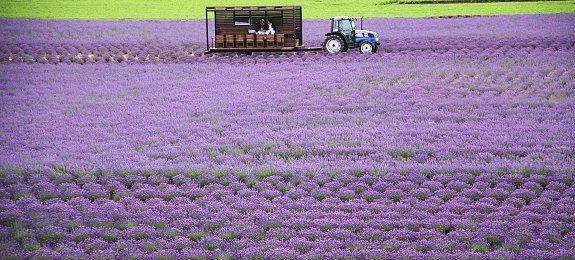 Another popular farm for lavender and other flowers is the Flower Land Kamifurano. The farm's hillside location affords beautiful views of the Tokachi mountain range in combination with the flower fields. Among the attractions are rides through the fields on tractor pulled carts and hands on experiences such as lavender cutting and flower pressing.
Cheese Factory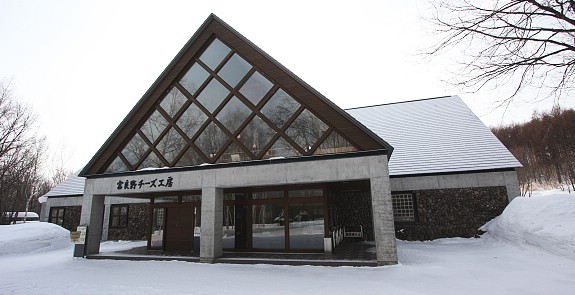 The Furano Cheese Factory lets visitors observe the production process of the local camembert type cheese from behind windows. Cheese samples, including those of a black cheese colored by squid ink, can be tasted in the factory shop.
Besides the cheese factory, there is also an ice cream parlor ("ice cream factory") and a pizzeria ("pizza factory"), as well as hands-on workshops, at which visitors can try to make butter, ice cream, bread and cheese. Workshops start at fixed times during the day. Advance reservations are not required except for the bread workshop.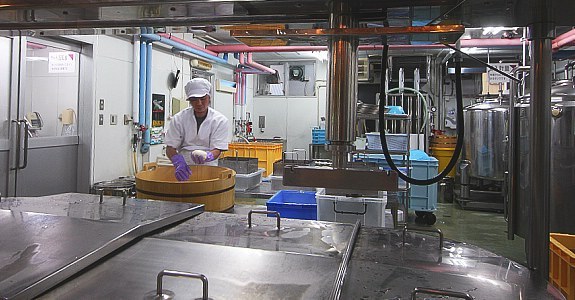 Furano Winery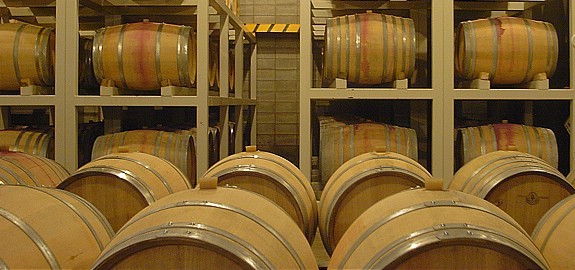 Local wine has been produced in Furano since 1972. Located on a hill overlooking the town, the Furano Winery is open to the public and includes free wine tasting. Not far from the factory stands the Restaurant Winehouse where you can try the wines in combination with Western dishes.
Near the winery stands also the Grape Juice Factory, where visitors can observe the production process from behind a window and try the tasty grape juice. A small lavender field is also located on the hill.
---
North (Rebun & Rishiri Islands)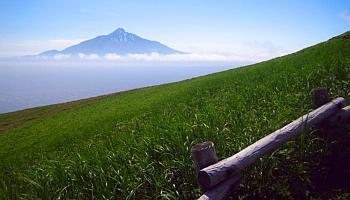 Rishirito (Rishiri Island) and Rebunto (Rebun Island) are two small islands near the northern tip of Hokkaido. The islands are part of the Rishiri-Rebun-Sarobetsu National Park and offer beautiful hiking trails, costal sceneries, alpine flowers and small fishing villages.
Rishiri is a round island with the 1721 meter tall Mount Rishiri at its center. Due to its appearance, the dormant volcano is also known as Rishiri-Fuji. Rebun is longer and flatter than Rishiri and most famous for its wealth of alpine flowers found at sea level due to the harsh climate
Rebun Island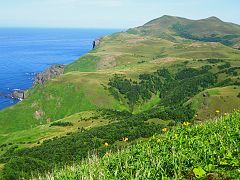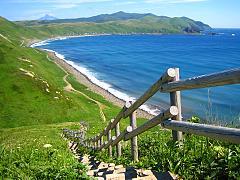 Rebun Island is a longish island, about 10 km north of Rishiri Island and 50 km off the northern tip of Hokkaido. Together with Rishiri Island, Rebun belongs to the Rishiri-Rebun-Sarobetsu National Park.
Rebun Island is most famous for its rich flora, which features many alpine flowers, some of which cannot be found anywhere else on the world. The flowers are in bloom from around June to August, the best time to visit Rebun. Not many tourists come to the island during the long and harsh winters.
The alpine flora, the beautiful natural scenery of Rebun and views of nearby Rishiri can be enjoyed from a network of pleasant walking and hiking trails.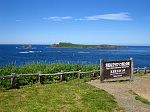 Cape Sukoton (Sukoton Misaki) is the northernmost point of Rebun Island. Besides the fine views and a souvenir shop, there is not much to be found. Cape Sukoton is a terminal point of the beautiful 4-hour and 8-hour hiking courses.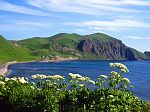 Cape Gorota is a beautiful cape in the northern part of the island. A scenic walking trail, part of the 4-hour and 8-hour hiking courses, connects Cape Sukoton via Cape Gorota with Gorota Beach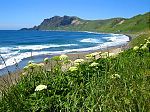 Gorota Beach is a sand beach on the western coast of Rebun, popular among wind surfers. It offers beautiful views of nearby Cape Gorota. The 4-hour and 8-hour hiking courses pass along the beach.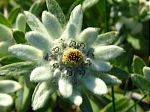 This is an area with a relatively high number of Rebun Usuyukiso, the Rebun version of the Edelweiss. The Rebun Usuyukiso is one of several protected, very rare kinds of alpine flowers found on Rebun Island.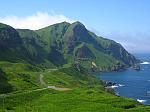 Motochi is the name of the island's southwestern region, which is characterized by a scenic, steep coastline. A small village with ryokan and distinctively shaped rocks resembling a cat's head and a Jizo statue, can be found along the coast.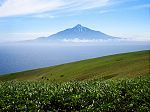 Momoiwa ("Peach Rock") is a roundish hill in the Motochi region. Alpine flowers in combination with views of nearby Rishiri Island can be enjoyed from the Momoiwa observation deck and the hiking course that leads along the ridge of the hills to Shiretoko
Rishiri Island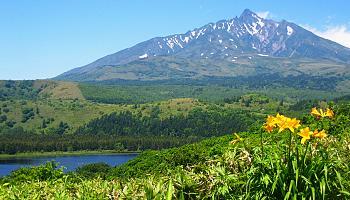 Rishiri Island is a remote, small island about 20 kilometers off the northern tip of Hokkaido, with a circumference of about 60 kilometers and Mount Rishiri, a dormant volcano, at its center.
Together with neighboring Rebun Island, Rishiri belongs to the Rishiri-Rebun-Sarobetsu National Park. Many of the island's 6000 inhabitants are making a living from tourism and fishing.
Rishiri Island offers various hiking and walking opportunities. The climb to the top of Mount Rishiri takes a full day and is quite challenging. There is also a cycling road along the island's northern coast.
A visit to Rishiri Island is most attractive during the summer months (June to August), when the island's alpine flora is in bloom. Not many tourists visit the island during the long and harsh winters.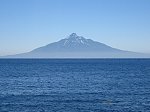 Mount Rishiri, commonly referred to as Rishiri-Fuji, is a 1721 meter tall dormant volcano in the center of Rishiri. Cars can proceed as far as the 3rd Station on the Oshidomari side and as far as the 5th Station on the Kutsugata side.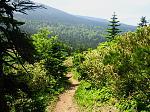 Mount Pon (444 meters above sea level) is a small peak at the side of Mount Rishiri. Its summit can be reached in a pleasant 30-45 minute walk from Mount Rishiri's 3rd Station or in about 60-90 minutes from Hime Pond.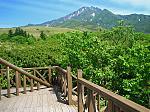 From the Kutsugata side of Mount Rishiri, cars can proceed as far as the 5th Station. An observation deck with nice views can be reached in a short walk from the 5th Station's parking area.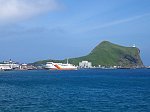 Cape Peshi is located just next to the port of Oshidomari, Rishiri's largest town. There is a walking trail up to the top (5-10 minutes), from where nice views of Oshidomari and Mount Rishiri can be enjoyed.
Rishirifuji Onsen is a hot spring with indoor and outdoor baths. It is located at the southern end of the town of Oshidomari. Admission costs 400 Yen.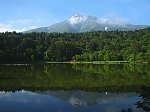 Hime Pond (Himenuma) is a man made pond at the foot of Mount Rishiri. The views of the mountain reflecting in the pond are well advertised.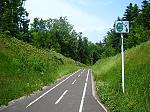 A road for exclusive use by bicycles follows the northern coast of Rishiri from Hime Pond to Kutsugata for about 20 kilometers. Bicycles are provided by many of the island's accommodations and some rental shops.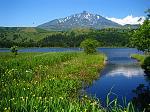 Otatomari Pond is a beautiful pond in the south of the island. The view of the pond with Mount Rishiri as backdrop is splendid.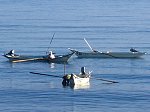 Small fishing villages can be found along the whole coast of Rishiri Island. Rishiri is particularly famous for its sea urchins (uni) and konbu seaweed.
---
South (Hakodate + Chitose)
Noboribetsu Onsen — Hokkaido's Most Famous Onsen
Noboribetsu Onsen is Hokkaido's most famous hot spring resort. A large amount of Noboribetsu's many types of hot spring water surfaces in the spectacular Jigokudani or "Hell Valley" just above the resort town. Noboribetsu is part of Shikotsu-Toya National Park.
Dai-ichi Takimotokan (Onsen inn)
Check out: http://www.takimotokan.co.jp/english/paradise/paradise2.html
Pros:
Good choice of spa (7!)
Big
Besides Jigokudani (Hell Valley)
Relative cheap/affordable
Cons:
Meals are so-so — buffet :(
Seems 'crowded' as it has huge capacity
Service seems to be erratic (probably due to its size)
Noboribets-onsen has 11 different kinds of hot springs and you can enjoy 7 hot springs at Dai-ichi Takimotokan. This cannot be seen in any other part of the world, and we also have a hot spring that you can enjoy only at Dai-ichi Takimotokan. Our giant bathhouse is open 24 hours. Do enjoy!
(Sauna, steam bath and open-air bath open from 6:00 to 24:00)
The Cure Spa - This bath contains sodium, calcium and chloride, and its water has a gentle quality, good for elderly people and those who are rehabilitating, and also good for rheumatism, incapability in the motor nerves, underdevelopment and menopause. The bath will make your skin smooth.
This sulfate spring, equal in clarity to the famous Karlsbad spa in the Czech republic, famous for years as a bath to heal wounds and paralysis. It is also eases high blood pressure, hardening of the arteries and chronic skin diseases.
The Heat Spa - This bath contains sodium, calcium and chloride, and the mineral particles cover the skin surface filling the pores. This is why this bath is called the Warmth Spa, because it is good for rheumatism and those who are sensitive to cold.
The Pancreatic Bath - This acidic bath contains sulfur and iron oxides. This is one of the most remarkable hot springs in Noboribetsu. It is good for skin diseases including athlete's foot, or those caused by germs. It also improves both blood formation and circulation by expanding vessels. This bath can improve symptoms related to rheumatism and the menopause. But since this bath is rather acid, those with sensitive skins should wash with pure hot water when they get out.
The Demon Spa - This bath contains sodium, calcium and chloride and is good for chronic diseases of the digestive organs, gynecological diseases, and recovery from fatigue. It also improves your health, bad circulation and reputedly heals cuts and skin burns.
The Beauty Spa - This bath contains sodium, calcium and magnesium and a less stimulant alkaline bath. When you take this one, it washes away the sebum, making your skin smooth. It is also good for cuts, burns, chronic skin diseases, neuralgia, and anemia. Since this prevents inflammation and allergies, it is good for nettle rash and atopic dermatitis.
The Beautiful Skin Spa - This contains sulfur and is also one of the best sulfurous springs in Noboribetsu. The particular smell comes from hydrogen sulfide. It will expand blood vessels, improve circulation and control skin. It is thought to ease hardening of arteries, high blood pressure, chronic skin diseases, chronic gynecological diseases and cuts.
Jigokudani (Hell Valley)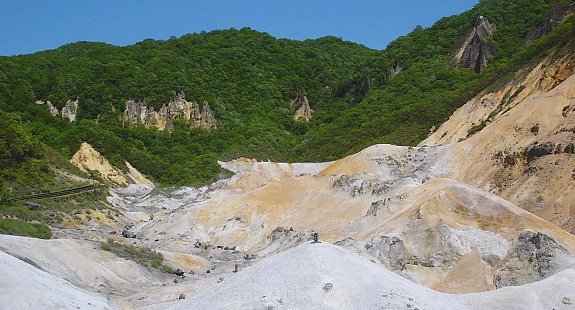 Jigokudani or "Hell Valley" is a spectacular, appropriately named valley just above the town of Noboribetsu Onsen, which displays hot steam vents, sulfurous streams and other volcanic activity. It is a main source of Noboribetsu's hot spring waters.
From the valley, there are attractive walking trails through the wooded hills above Noboribetsu. If you follow them for about 20 to 30 minutes, you will get to Oyunuma, a sulfurous pond with a surface temperature of 50 degrees Celsius and a smaller, even hotter, mud pond nearby.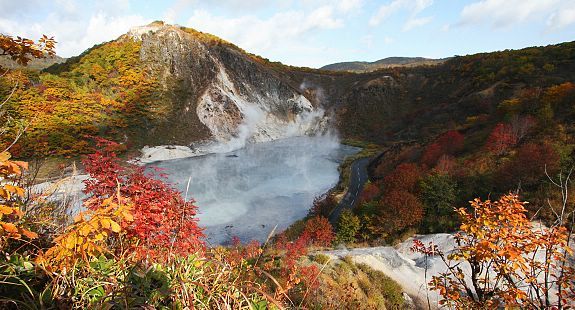 Flowing out of Oyunuma is a river called Oyunumagawa. Still hot, the river flows through the forest, making for an out-of-this-world sight. It is possible to follow the river for several hundred meters and enjoy a natural foot bath (ashiyu) along the way.
The autumn color season in Noboribetsu usually reaches its peak in mid October, adding further colors to the already spectacular scenery. During winter, some of the walking trails in the hills above the Jigokudani might not always be passable.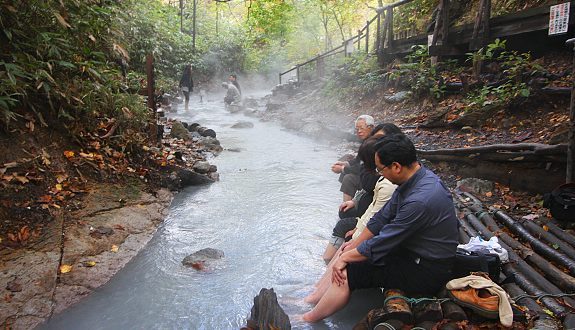 Lake Toya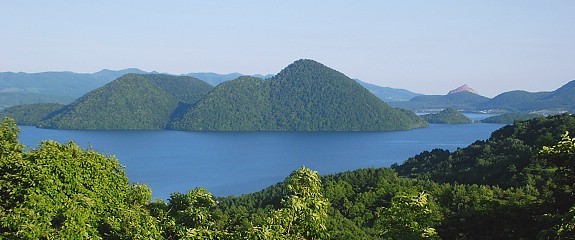 Lake Toya (Toyako) is part of the Shikotsu-Toya National Park. In addition to the lake itself, the Toyako region features hot springs and an active volcano, Mount Usu, which last erupted in the year 2000. The area also offers many fishing, hiking, and camping opportunities.
The picturesque lake was chosen as the location of the the G8 summit which Japan hosted from July 7 to 9, 2008. The leaders of the world's eight major industrialized democracies met at the Windsor Hotel Toya Resort & Spa.
Otaru — Little Venice in Hokkaido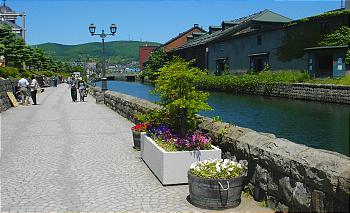 Otaru is a harbor city, half an hour northwest of Sapporo by train. Its beautiful canal area and interesting herring mansion make Otaru a pleasant one day trip from Sapporo or a nice stop en route to or from the Shakotan Peninsula.
Ferries from Niigata and Maizuru on Honshu arrive at Otaru Port.
Hakodate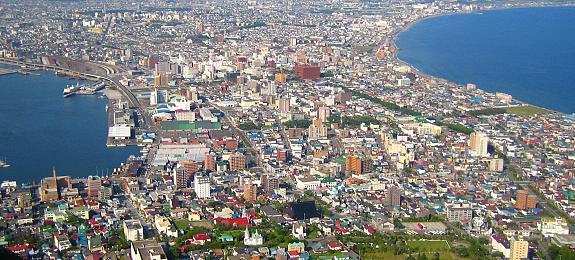 View from Mt Hakodate
Hakodate is Hokkaido's third largest city, located at the island's southern tip. Hakodate is best known for the spectacular views to be enjoyed from Mount Hakodate and its delicious, fresh seafood.
As one of the first Japanese harbor cities to be opened to international trade after the country's era of isolation, Hakodate has experienced notable influence from overseas, and the foreign population's former residential district and a Western style fort are among its main tourist attractions.
Onuma Park, a quasi national park with beautiful, island dotted lakes, is located only half an hour north of Hakodate and makes a nice side trip or a stop along the journey between Hakodate and Sapporo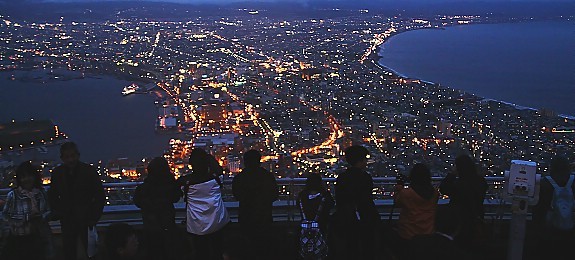 View from Mt Hakodate (Night)
Onuma Park (side trip from Hakodate)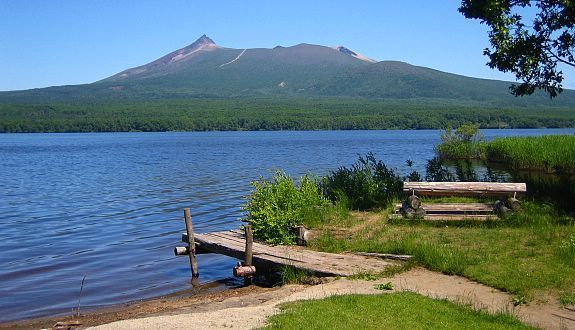 Designated as a "quasi national park" and located only twenty kilometers north of Hakodate, Onuma Park (Onuma Koen) is known for its picturesque, island dotted lakes and majestic dormant volcano, Mount Komagatake.
Onuma Park can be easily visited in either a day trip from Hakodate or on a stop over on a journey between Hakodate and Sapporo, since most limited express trains between the two cities stop at Onuma Koen Station, the central railway station.
The park's most attractive area is located between the two lakes Onuma (large lake) and Konuma (small lake) and can be explored entirely on foot. Attractive walking courses let you explore the lakes' peninsulas and islands, several of which are connected with each other by small bridges, in easy 15-60 minute walks.
It is also possible to rent bicycles (500 yen/hour, 1000 yen/day). A cycling course leads around Lake Onuma (about 10 km), but follows the main road rather than the lakeshore for most of the distance. It is a nice way to explore the area, nevertheless.
Furthermore, there are sightseeing boat tours offered once per hour, lasting about 30 minutes (830 yen per person). Other activities to be enjoyed in Onuma Park include canoeing, tennis, golf, fishing and camping.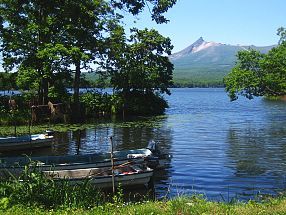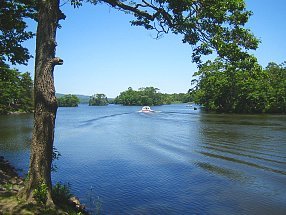 ---
Tokyo
page revision: 35, last edited: 22 Jun 2011 01:17